How to Finance Your Wedding
How to Finance Your Wedding
Expensive weddings are the reality these days for most couples. In fact, it's not unusual for a wedding with 175 to 200 guests to cost over $20,000. And for a smaller event with at least some of the trimmings, many wedding planners will tell you to set your minimum budget at $5,000. As with most major purchases, the cost may exceed that price by roughly 15%.
Traditionally, the bride's family paid most wedding expenses. Today, with higher costs and many people marrying at a later age, those rules have changed drastically.
What are your options?
You could, of course, use your short-term emergency cash fund or sell some of your investments. But would it be worth it? Do you really want to jeopardize your financial security for just one day, albeit a special one? Many financial planners suggest delaying the wedding until you've saved enough for your wedding.
But if you can't wait months to be with your intended, and you simply must throw a big celebration with all the bells and whistles, here are four funding sources for the big day — with the appropriate pros and cons — that you may want to consider.
Tapping Into a Home Equity Loan
If you own a house or condominium, a home equity loan may be tempting. But be careful. If you miss a payment, you run the risk of losing your home. The good news is that most home equity loans run one to three points above the prime rate and the interest may be deductible. Be sure you understand that some loan agreements initially require you to pay only the interest on a monthly basis, which may leave you with a balloon payment down the road. In addition, some lenders may offer very low interest rates for the first few months with higher rates later, triggering a corresponding increase in your payments.
Taking a Loan Against Your Whole Life Insurance Policy
This is one source for quick cash, provided you've held the policy and paid premiums for a number of years. You may be able to borrow up to the full cash value of the policy at a reasonable interest rate and not have to repay the loan. This action, however, will reduce the policy's death benefit. In the event of your demise, your beneficiary would receive the policy's face value minus the amount of the outstanding loan.
It's also important to understand that while the advertised interest rate of the loan may be low, you don't actually borrow the cash from your policy — it is only collateral against your loan. In that case, the rate you earn on the cash value may be reduced on the portion you use as loan collateral. You not only pay interest on the loan, you reduce the overall earnings on your policy. Of course, if your insurance policy is affected by interest rate changes, the terms will be quite different. Ask your insurance agent what kind of policy you have.
Sample Wedding Budget
The sample budget below lists the main expenses associated with a wedding. Space is provided for you to itemize projected expenses.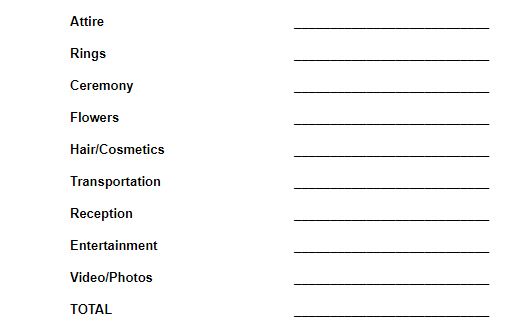 Borrowing From Your 401(k)
The interest rate on any loan you take from your employer-sponsored retirement plan is likely to be low, and you are, in essence, paying the interest to yourself. However, you must repay the loan within five years; otherwise, the IRS may view the unpaid portion of your loan as a distribution. You could be responsible for ordinary income taxes on the withdrawn amount and may have to pay a 10% additional tax if you're younger than age 59½.
In addition, should you leave your job, you risk paying taxes and an early withdrawal penalty if you don't repay the loan within the specific time period that is noted in your plan (e.g., 30 days). And, if the interest on the loan is less than the rate of return your money would have earned if it remained in the plan, you may find that you have less money for retirement.
Here's why. If you borrow money in an account earning 10% and you pay 6% interest on the loan, you may lose out on a potential 4% return on the balance of the loan. Over time, those potential missed earnings could add up, resulting in an overall lower account balance.
Bargain Hints
Of course, you can reduce expenditures and still have a memorable celebration. There are many books to assist budget-conscious couples in planning their weddings. There are also a number of specialty magazines such as Brides and websites such as The Knot that offer tips for cutting wedding costs. Money concerns are a major cause of stress in many marriages. Why not give you and your betrothed a gift by beginning your new life together with minimal debt?
Does a Margin Loan Make Sense?
A margin loan allows you to use your investments as collateral. Your brokerage firm may lend up to 50% of the value of your stock investments and nearly 90% of the value of your Treasury securities at an interest rate that's a point or more above prime. If you purchased your mutual funds through a discount broker, you can borrow against these investments as well.
A big risk: Should the value of your investments decline, a "margin call" may be made on the loan. This means you'll have to make up the cash difference, or conversely, the lender may sell some of the remaining securities in the account.
© 2018 DST Systems, Inc. All rights reserved. Reproduction in whole or in part is prohibited without the express permission of DST Systems, Inc.