Investing in Stocks
Shares of common stock play a role in just about every investment portfolio. This article is for those who'd like to know more about where their savings might be invested. Here are the basics:
Stock (sometimes called equity) represents ownership of a company, divided among the company's shareholders.
While any company can issue stock, only companies that meet legal requirements can issue shares for trading on U.S. stock exchanges where they can be bought and sold by any member of the public.
The market value of publicly traded stock can change at any time. When the value increases, the shareholder sees a capital gain, which can become part of the investor's return.
Public companies generally seek to earn a profit. Profit may be distributed to shareholders as a dividend, which can become another part of the shareholder's investment return.
Why Stocks? A Closer Look at Performance Potential
Stocks carry higher investment risks than bonds or money market investments, but historically, they also have realized higher rates of return over longer holding periods (see chart). While past performance doesn't guarantee future results, the higher return potential of stocks can make them appropriate investments for long-term investors seeking to build the value of their portfolios or to stay ahead of inflation. Both of these objectives are critical to investors with specific long-term goals in mind, such as saving for retirement.
Average Annual Rates of Return for Four Types of Stock Compared with Bonds and Cash (1988-2017)1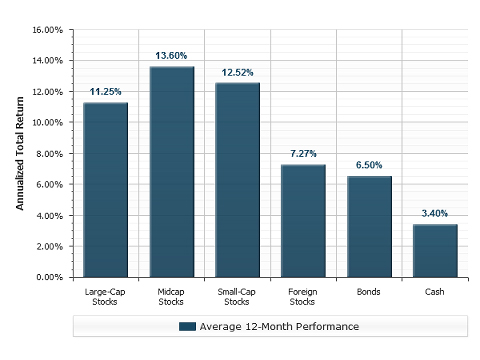 Managing the Risks of Investing in Stocks
Stock investors must weigh the potential risk of loss of principal against the risk of not meeting their investment goals or of losing purchasing power to inflation. They can also manage risk by:
Diversifying among stocks of many different companies. Investing in just one or two stocks is generally much more risky than buying stocks of 15 or 20 companies. By holding stocks of different companies in multiple industries, you reduce your exposure to a substantial loss due to a price decline in just one stock. Remember, diversification does not ensure a profit or eliminate risk during market declines.
Allocating assets appropriately. Asset allocation refers to how you spread your portfolio among different types of investments — such as stocks, bonds, and money market investments. An aggressive investor with a long-term horizon might choose to keep a large fraction of his or her portfolio in stocks, while an investor seeking less risk could have a smaller fraction. The balance in either case could be in bonds and money market funds. This adds yet another level of diversification to the portfolio and can further reduce investment risk. Your financial advisor can help you select an asset allocation that is appropriate for your goals and time frame.
Staying invested through periods of market turbulence can also help reduce risk of loss as the variability of returns tends to decrease over time.
The Mechanics of Investing in Stocks
Individuals can buy stocks directly through a full-service or discount brokerage. They can also gain investment exposure to stocks through equity mutual funds and other pooled investment products. Some employers offer their employees the opportunity to buy company stock through an employee stock ownership program or a retirement plan.
Because of their long-term potential, stocks may have a place in nearly every portfolio. Speak with your financial advisor about how you can use equity investing to help meet your financial goals.
© 2018 DST Systems, Inc. All rights reserved. Reproduction in whole or in part is prohibited without the express permission of DST Systems, Inc.
1
Source: ChartSource®, DST Systems, Inc. For the 30-year period ended December 31, 2017. Large-cap stocks are represented by the S&P 500 index. Midcap stocks consist of the CRSP 3rd-5th deciles and the S&P 400 index. Small-cap stocks consist of the CRSP 6th-10th deciles and the S&P 600 index. Bonds are represented by the Bloomberg Barclays U.S. Aggregate Bond index. Cash consists of 3-month Treasury bills and the Bloomberg Barclays U.S. Treasury Bill 1-3 Month index. Foreign developed stocks are represented by the MSCI EAFE index. Average is calculated from the sum of all potential 12-month periods from the first business day of each month and ending on or before the last business day. Past performance is not a guarantee of future results. Index performance does not reflect the effects of investing costs and taxes. Actual results would vary from benchmarks and would likely have been lower. It is not possible to invest directly in an index. © 2018, DST Systems, Inc. Reproduction in whole or in part prohibited, except by permission. All rights reserved. Not responsible for any errors or omissions. (CS000168)